The Wazuh team invites you to join us at our meetup on June 11th at the Elastic headquarters in Mountain View, California.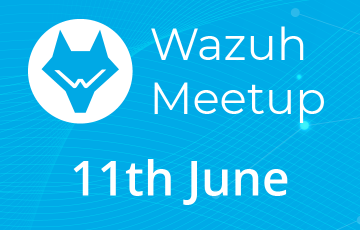 You will be able to learn first hand, from our team and other users, how to use Wazuh for different use cases, including FIM, PCI DSS, threat detection, Docker monitoring, incident response, and Cloud (IaaS) monitoring.
In addition, the talks will include topics regarding the future of Wazuh as a global open source security platform and how to contribute to the project development.
Elastic, creators of Elastic Stack, is hosting the meetup in Mountain View, at 800 W El Camino Real, Mountain View, CA 94040. The meetup will start at 6pm PDT (hopefully you can join after work).
Confirm your attendance to Wazuh meetup at Eventbrite.