San Jose, California, September 2023. We are glad to announce that Wazuh has signed a partnership agreement with FirmGuardian, an accomplished cybersecurity company based in the US focused on helping organizations create stronger Security and Compliance programs.
FirmGuardian manages a cloud-based XDR and SIEM platform leveraging Wazuh's open source platform to supercharge the ingestion of information via an ever increasing amount of data sources across an organization's digital ecosystem.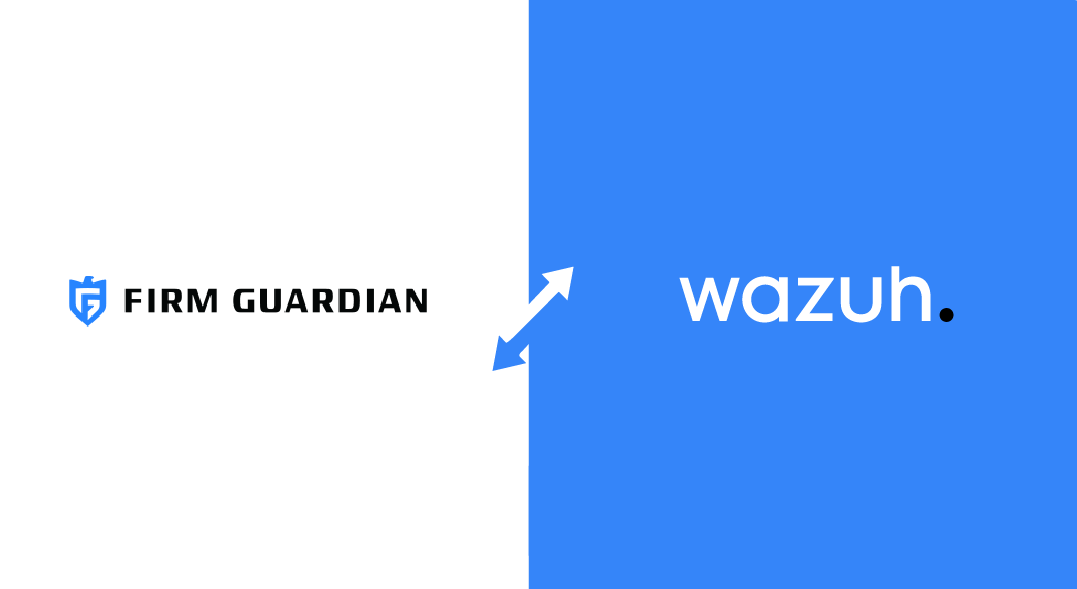 "At FirmGuardian, partnering with Wazuh has been an absolute game-changer for our cybersecurity strategy. Several aspects of our collaboration have truly stood out, showcasing the exceptional value Wazuh brings to the table.
First and foremost, Wazuh's vulnerability detection and management capabilities, combined with their CIS benchmarking tool, have been a godsend. The fact that these functionalities operate in near-real-time rather than relying on manual runs has significantly elevated our security posture. This efficiency has empowered us to stay ahead of vulnerabilities and benchmarks, ensuring a proactive approach to safeguarding our digital landscape.
Equally impressive is Wazuh's incorporation of threat intelligence into their automated detection pipeline. This integration has proven to be incredibly effective in identifying and mitigating potential threats swiftly. The seamless flow of threat intelligence data has enhanced our ability to respond promptly to emerging risks, further fortifying our defenses.
The customization and user-friendliness of Wazuh's platform have been a revelation. The ease with which we can add our own custom detections, rules, and decoders has exceeded our expectations. This feature not only amplifies our security strategy's precision but also empowers our team with an intuitive toolkit for crafting tailored solutions.
However, what truly sets Wazuh apart is their unparalleled support. In the face of challenges, we've pushed the limits and tested their capabilities multiple times. Without fail, the Wazuh team has risen to the occasion, swiftly addressing our concerns and resolving issues. Their unwavering commitment to our success has solidified our confidence in this partnership.
As we reflect on our journey so far, we are confident that the partnership between FirmGuardian and Wazuh holds a promising future. The synergy between our objectives and Wazuh's innovative solutions leaves us excited about the possibilities ahead. We look forward to a long and fruitful collaboration that continues to elevate our cybersecurity endeavors.
In conclusion, we can confidently attest that Wazuh is more than a partner; they are a beacon of reliability, innovation, and unwavering support. We're excited about the path forward and the collective achievements that lie ahead on our cybersecurity journey with Wazuh" explains Jordan Trulen, Lead Architect in FirmGuardian.
"We are delighted to partner with such a great company as FirmGuardian. We are proud to be part of their solution and we trust their customers will definitely benefit from this collaboration to improve their cybersecurity strategies", stated Alberto Gonzalez, COO at Wazuh.
To learn more about FirmGuardian, please visit its official website. For more information on Wazuh Partnerships, please visit our partners' page.