Trademark policy
Wazuh Inc. brand, trademarks, service marks, trade names, logos, and any other branding materials (collectively referred to as Branding Material) are valuable assets of the company and, therefore, protected by copyright and intellectual property laws and treaties. Access to the Wazuh website does not give any user permission to use any Branding Material and such use is strictly prohibited, unless otherwise specified hereafter. You acknowledge and agree that Wazuh is the sole owner of the Branding Material, and you agree not to infringe its rights to use its trademark in any location.
Unauthorized use of the company's Branding Material or any confusingly similar marks is strictly prohibited. You should not (and should not allow any third party to) remove any proprietary notices or delete or change any copyright, trademark, or other proprietary information with respect to Wazuh Branding Material contained in this website. Wazuh Branding Material must not be used in a way that damages the company's reputation or diminishes the value of its brand, nor in a way that dilutes its distinctiveness. You should not use Wazuh Branding Material on or in connection with any kind of obscene materials, and your use may not be disparaging, defamatory, or libelous to Wazuh, any of its products or services, or any person or entity. You must not display Wazuh Branding Material on a web site that violates any law or regulation. Using Wazuh's Branding Material to sell counterfeit or infringing products or services is prohibited. You should not register a domain name that incorporates the company's Branding Material or a variation of it, and use it to mislead consumers or redirect them to a different website rather than the Wazuh website. The company's Branding Material should not be used in any manner that directly or indirectly expresses or implies Wazuh sponsorship, membership, affiliation, association, integration, certification, approval, or endorsement in relation to you, or to your product or service.
The above should not be deemed an exhaustive enumeration but merely an example of the prohibited cases of use of Wazuh Branding Material. Any unauthorized use of the company's Branding Material may result in legal action and/or disciplinary action. If you have any questions regarding the use of Wazuh Branding Material, or become aware of a prohibited use, please contact us.
Uses
Uses that do not require permission
Notwithstanding the foregoing, Wazuh embraces "fair use" of its Branding Material. Provided your use complies with this policy and our Usage Guidelines, you may use the Wazuh Branding Material to identify Wazuh, for example, in your website, blog, news article, presentations, social media posts, or product review, without our written consent, as long as you use them without modification or deceptive intent and do not cause a likelihood of confusion between yourself and Wazuh brands.
Uses that require permission
Use that does not comply with the terms of this policy are subject to Wazuh's prior consent.
You may not include any Wazuh logo, in whole or in part, in your company logo, your product logo, without a prior written license from Wazuh.
The company's Branding Material shall not be used in any advertising, marketing, or promotional materials without prior written approval.
Wazuh Partners may legitimately use specific Wazuh Branding Material by signing up to the Wazuh Partner Program.
Overall guidelines
By following these instructions for using our trademarks, you can help us protect and strengthen Wazuh's trademark rights. This set of usage rules is intended for developers or any other party wishing to use Wazuh trademarks or service marks (both referred as trademarks hereunder) for any permitted use case, weather in print or online marketing, education, promotion, or reference resources; or as otherwise expressly authorized by Wazuh.
The word "Wazuh" must be used precisely: it may not be shortened or merged with another word.
Always distinguish the Wazuh trademark from surrounding text by using capital letters, bold type, italics, color, underlining, quotation marks, or a special stylized format.
Always use our trademark consistently, including the same spelling, punctuation, and spacing.
Always use the Wazuh trademark as an adjective modifying a noun, and never as a singular or plural noun.
Do not use our trademark as a verb.
Do not use the Wazuh trademark in the possessive form.
Use the generic term for the product/service following our trademark, for example: Wazuh training, Wazuh support service, Wazuh cloud.
Do not remove, distort or alter any element of the Wazuh trademark. That includes modifying the trademark, for example, through hyphenation, combination or abbreviation. Do not shorten, abbreviate, or create acronyms out of our trademarks.
The Wazuh logo should not be modified or incorporated into other designs. Use only Wazuh -approved artwork when using our logo.
Please follow this guideline when using the Wazuh logo.
Area and limits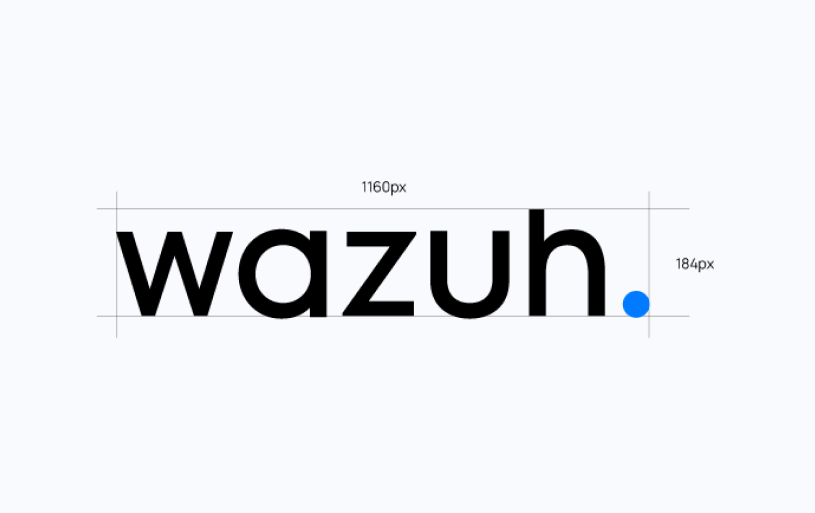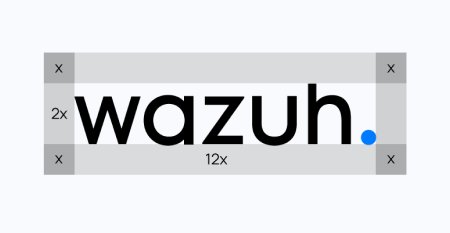 Minimal reduction